Client SSI Generator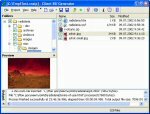 Client SSI Generator is a complementary tool for web designers and is intended for imitating processing pages by a SSI server on the client side. It may be used in cases there's no SSI service available on the HTTP server, and higher-level services, such as CGI, ASP or PHP, are also unavailable.
In case you aren't aware, SSI mechanism is extremely useful for creating consistent website design: it is achieved by using templates, which are automatically being built into pages by the server. Just in the case you have no such server (no SSI support on the server or no server delivering HTML content to client at all - eg, in .chm help files) the program can partially solve the situation by creating SSI content on the designer's workplace. Anyway it's much easier than manually rewrite hundreds of pages when you just need to alter main website menu.
The program needs ca. 2 MB free space on the hard drive and 8 MB of installed physical memory (more memory recommended for proper file caching).
Operating system: Windows 95/98/ME/NT/2000/XP.
Client SSI Generator software is free for non-commercial use. In case you are profiting from using it you need to register the program by writing an email to DK Software.
Client SSI Generator downloads

Russian - Home - Products - Info - Download - Support - Miscellaneous - Top